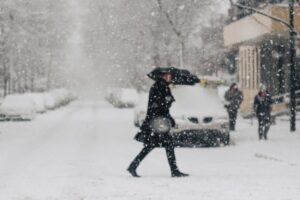 The Carolinas aren't exactly known for having an extreme winter climate, but snow and ice are always a possibility during the cold season. When slick, frozen conditions are present, accidents occur at a much higher rate.
Follow these tips from your friends at Stewart Law Offices to stay safe during the next winter storm:
Safety tips for walking in slippery conditions:
Wear boots with rubber grip soles to minimize your risk of slipping.
Give 100% attention to your path. Avoid texting or digging around in your pocketbook while walking.
Don't walk with your hands in your pockets. This reduces your ability to use your arms for balance, or catch yourself if you fall.
Take slow, short, shuffling steps in very icy areas. Curl your toes, bend your knees, and walk as flat-footed as possible to further reduce your risk of slipping.
Support yourself whenever possible, especially when climbing stairs or getting into/out of a vehicle.
Use rock salt or chemical de-icers at home to melt ice on your sidewalk and driveway.
If you do not have ice melters, a sprinkle of sand or cat litter can provide traction in icy areas.
Due to road conditions, drivers may not be able to stop for traffic signals or pedestrians. Be aware of this and exercise extreme caution when navigating around moving vehicles.
Safety tips for driving in winter weather:
Equip your vehicle with snow tires and have your brakes professionally inspected at the start of winter.
Make sure your windshield wipers are in good shape and your washer reservoir is full.
Clear all snow and ice off your car before driving it. It is especially important to make sure the tailpipe is clear in order to prevent carbon monoxide poisoning.
Accelerate and decelerate slowly. This is the best way to maximize traction and avoid skidding.
Stopping time may be doubled in winter weather. Give yourself enough distance when following other cars or approaching a stop light.
Keep your headlights on to improve visibility – even during the daytime.
Carry basic emergency and first aid supplies in your car in the event that you get stuck.
Stay home and avoid driving unless absolutely necessary.
Despite our best intentions, winter accidents are bound to happen. If you have been seriously hurt as the result of someone else's negligence, contact the personal injury attorneys at Stewart Law Offices. If you live in North Carolina or South Carolina, just call (866) 783-9278 to get started with your free initial consultation.