Workers' Compensation and Knee Injuries in SC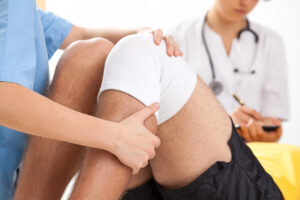 The knee is the largest and most complicated joint in the human body. It is also the most vulnerable to injury. If you've suffered a knee injury on the job, Stewart Law Offices can help you pursue workers' compensation benefits to offset the financial hardships that often arise when an individual can't work.
The knee bears an amount of pressure equal to one and a half times of a person's body weight while walking, and about three to four times the body weight when going up and down stairs. As much as eight times a person's body weight can be exerted on the knee with other everyday activities such as bending, kneeling, squatting, and lifting.
It's normal for the constant, everyday use of our knees to cause a certain amount of wear and tear in the knee joint, making it highly susceptible to injury. Workplace knee injuries are common among employees of all types, including warehouse workers, medical professionals, mechanics, restaurant workers, and truck drivers, to name a few.
South Carolina workers' compensation benefits can help cover medical expenses and lost wages while you recover from your injuries. But workers' comp laws in South Carolina are highly technical. It's a good idea to get advice from an experienced SC workers' compensation attorney at Stewart Law Offices before applying for benefits for your knee injury.
Call our offices or contact us now for a free consultation.
Is My Knee Injury Eligible for Workers' Compensation?
The South Carolina workers' compensation system provides benefits to most employees who suffer knee injuries and other health problems caused while working. It's a no-fault system. That means that an employee who sustains a knee injury at work is not required to prove fault on the employer's part in order to recover benefits. The worker only has to show that his or her injury occurred at work or was related to his or her work-related activities and responsibilities.
Though that sounds simple, getting workers' compensation in South Carolina is not always easy. You must be able to show that the injury arose while you were performing duties that fall under the scope of your employment. This can be simpler to prove for employees hurt in a traumatic incident. Knee injuries that occur over time will need substantially more proof to show that they are work-related. An experienced attorney at Stewart Law Offices can help you build and submit a strong workers' compensation claim detailing why you deserve maximum benefits.
Types of Knee Injuries at Work
Knee injuries can be caused by a work-related accident or by simple overuse of the knee at work. Several types of injuries commonly occur in the workplace. These include:
Sprains and strains of the muscles that support the knee
Edema (swelling of the knee joint)
Tendonitis (inflammation of the tendons in the kneecap)
Fractured patella (kneecap)
Tear of the anterior cruciate ligament (ACL), a stabilizing ligament that runs along the front of the knee
Dislocation of the kneecap
Torn meniscus, the cartilage in the knee that connects the knee bone and the thigh bone
Chondromalacia patellae, or damage to the cartilage under the kneecap
Bursitis, or damage and inflammation to the fluid-filled sacs that cushion and lubricate the knee joints
Traumatic injuries requiring amputation above or below the knee
An employee with a knee injury may only need a short period of time off to recover, or could be out for much longer. During that time, medical expenses will continue to build. Knee injuries typically require rehabilitation, such as physical therapy, to get the joint functioning optimally again. South Carolina workers' compensation benefits should pay for these expenses and provide partial-wage replacement during this period. If you're not getting it, you need to talk with an experienced workers' comp attorney at Stewart Law Offices as soon as possible.
Causes of Work-Related Knee Injuries
Knee injuries can be caused by a traumatic incident or from repetitive stress. Some of the most common include:
Slip-and-fall accidents: A fall at work can happen in any industry or profession. These types of accidents often result in serious injuries to the kneecap and the soft tissue structures of the knee. Knee injuries sustained after a fall from a great height can be particularly severe. These types of work accidents commonly occur on construction sites.
Motor vehicle accidents: People who drive for a living are also susceptible to knee injuries. Of course, knee injuries may occur in a car or truck accident, but many South Carolina workers are living with knee injuries caused by repetitive use of the knee joint, such as by shifting gears in a tractor or making deliveries of heavy items.
Struck by moving objects or heavy machinery: People who work in factories and manufacturing plants are surrounded by lots of moving parts. Being struck or bumped by a piece of industrial equipment could cause a wide variety of knee injuries.
Strain and stress injuries: Jobs that require workers to stand or walk for the majority of their workday often lead to knee injuries caused by repetitive movement. Nurses, warehouse workers, and grocery clerks are all at risk for work-related knee injuries.
Chronic Knee Injuries vs. Sudden Knee Injuries at Work
Chronic knee injuries are those that happen to the knee over time. They usually occur when the cartilage in the knee is worn away due to age, overuse, or underlying medical conditions such as arthritis. Some medications can also weaken the cartilage in the knee.
Chronic knee injuries cause symptoms such as frequent pain and swelling. Physically demanding jobs can cause knee injuries over time.
Sudden knee injuries are usually caused by accidents at work. They are considered to be acute, or severe and sudden in onset. For example, a broken kneecap caused by a slip-and-fall accident at a construction site is an acute injury.
If you suffer from either a chronic or sudden knee injury caused by your work-related activities, you may be eligible for workers' compensation benefits. But in some instances, your employer's insurance company may attempt to deny you benefits on the theory that your knee injury is pre-existing or unrelated to your job duties.
Even if you have a pre-existing knee injury, you could still be entitled to workers' comp benefits. If your work duties or workplace accident aggravated your prior knee condition, you should be able to receive benefits — especially if the condition required recent medical treatment.
If you have a chronic knee condition and are unable to work because of continued pain and swelling, a workers' compensation attorney can address any disputes that may arise about your eligibility for benefits. For example, a lawyer may get medical opinions from your treating orthopedist to testify that your work-related activities are causing the condition to worsen. This information can help satisfy the insurer or S.C. Workers' Compensation Commission and get your workers' comp benefits approved or reinstated.
What is the Average Knee Injury Workers' Comp Settlement?
In South Carolina, the law does not set a specific amount that your employer's insurance company has to pay you for your knee injury. A workers' compensation settlement depends on the specific factors of your case, such as:
Severity of the injury
The medical treatment required
The injury's impact on your daily life
Your earnings prior to your injury
Whether you can return to light-duty work or are permanently disabled
Whether you can be trained to do another kind of job through vocational rehabilitation
Age
Pre-existing conditions
South Carolina workers' compensation laws do refer to a schedule of injuries to determine how long a claimant can receive benefits. This is derived from a disability rating assigned to the worker by his or her physician. An employee with a 20 percent disability rating for a knee injury will receive benefits for a shorter amount of time than someone with an 80 percent rating.
With these competing factors coming into play, there are many ways that the insurance company can undervalue your workers' compensation claim. At Stewart Law Offices, our trusted lawyers will dig deep to make sure that you aren't being shortchanged. You can rely on our legal team to push for full and fair workers' compensation benefits for your knee injury.
Knowing When to Settle Your Claim
You shouldn't settle your workers' compensation claim without consulting an attorney first. Your lawyer will want to wait until the doctor declares that you have reached maximum medical improvement (MMI) for your knee injury. Maximum medical improvement means that your health condition has improved as much as can reasonably be expected.
A lawyer will also discuss other factors that you should consider when deciding the appropriate time to settle. For example, there is no guarantee that a workers' compensation appeal will be decided in your favor. The safer option may be to settle with the insurance company rather than taking that risk. A seasoned South Carolina workers' comp lawyer at Stewart Law Offices can give you an honest assessment of your legal options and advise you of every course of action possible to resolve your claim.
It's important to remember that any settlement you reach with the workers' compensation insurance company cannot be undone. Once you accept the award, you cannot go back and ask for more money at a later date — even if your injury gets worse.
When to Contact a South Carolina Workers' Compensation Attorney
If you injured your knee in a workplace accident or are suffering from a chronic knee injury that is work-related, you should call and speak to a South Carolina workers' compensation attorney as soon as possible. The state has strict reporting requirements for filing for workers' compensation claims. Failing to notify your employer and file by certain deadlines can prevent you from obtaining benefits altogether.
Important deadlines to remember:
You have 90 days to notify your employer of your injury. This should be done in writing, and it's best to keep a copy for your records. If you suffer from a chronic work-related injury, you should notify your employer when the pain and discomfort first begins to interfere with your ability to work.
The employer must notify its insurance company of your claim within 10 days. The claim then goes to the S.C. Workers' Compensation Commission.
You have 2 years to file a workers' compensation claim in South Carolina. This is the timeframe in which you have to file the official documentation needed to initiate the claims process.
For repetitive injuries, you have 2 years from date you knew or should have known that the injury could be covered under workers' compensation laws. Chronic knee conditions are among some of the most difficult to get covered by workers' compensation, but with the right evidence, it is possible for benefits to be paid for these injuries.
If you have already filed for workers' comp and have been denied, you have the option to request a hearing before the Workers' Compensation Commission. If you didn't have a lawyer's help before, now is the time to consult one. Although hiring a lawyer is not required, be aware that workers' compensation appeals are official legal proceedings. Claimants can benefit from having a lawyer present to present their claims, submit supporting evidence, and refute arguments presented by the opposing side.

At Stewart Law Offices, we're happy to answer any questions that you may have about your rights to appeal a workers' comp decision. Contact us now to arrange a free case review.
High-Quality Legal Services for Knee Injury Claimants in South Carolina
If you have suffered a knee injury at work, the attorneys at the Stewart Law Offices are prepared to help you recover the workers' compensation benefits that you are owed. With five offices throughout South Carolina and North Carolina, our accomplished lawyers can meet with you for a free consultation wherever is most convenient for you.
Don't risk losing benefits by waiting too long to file. Call or contact Stewart Law Offices right away to schedule your free case review.