Overexertion and Workers' Compensation Claims in S.C.
People who work in a range of industries – from desk jobs to physically demanding trades – can experience overexertion when they push their bodies beyond their limits. When South Carolina employees suffer injuries from overexertion, most have a right to workers' compensation benefits as they recover.
In South Carolina, most employers must carry workers' compensation insurance to provide financial support for workers who suffer from job-related overexertion injuries. Workers' compensation typically covers medical costs, a portion of the employee's lost wages, and disability benefits no matter who was at fault for the injury.
However, it's often challenging for injured employees to navigate the complicated process of claiming workers' compensation benefits in South Carolina. The workers' compensation attorneys at Stewart Law Offices support workers through these painful times and help them stand up for their rights.
Our legal team understands the struggles that injured workers face in the aftermath of a workplace accident. We're dedicated to helping clients achieve the best possible outcomes for their cases. That means we'll not only provide the high-quality representation you need, but also the personalized attention and respect you deserve.
Don't wait to get on the road to recovery if you're suffering from an overexertion injury. Call or contact us for a free consultation.
What Is Overexertion at Work?
Carrying heavy objects
Bending or reaching
Lifting objects, especially over your head
Throwing heavy items
Working in hot or poorly ventilated conditions, such as outside on a summer day or in a warehouse without air conditioning
Rapid movements
Sports
Pulling or pushing crates and other heavy loads
Forceful exertion
Poor posture
Repetitive motions, including standing or sitting repeatedly or using vibrating equipment or tools
Holding items, crouching or standing in an awkward position for an extended period of time
Overexertion injuries frequently keep victims out of work for extended periods of time. According to studies by the Bureau of Labor Statistics (BLS) and the National Safety Council, overexertion is one of the primary reasons that employees have to miss days from work each year.
Signs of Overexertion
Some common signs of overexertion include:
Fainting
Wheezing or coughing
Dizziness
Losing your breath
Nausea or vomiting
Dehydration
Difficulty speaking
Fatigue
Sore muscles, cramps, or aching joints
Sharp pain
Work Injuries Caused by Overexertion
Overexertion at work can cause a range of injuries, such as:
Heat exhaustion or heat stroke
Spinal cord damage and other back injuries
Muscle strains or sprains
Musculoskeletal injuries
Chronic pain
Torn, swollen, or dislocated joints and tendons
Migraines
Swelling, pain, or other neck injuries
Hernias
Pulled muscles in the arms, back, legs, or abdomen
Fractures, torn cartilage, or other knee injuries
What Should I Do After Suffering an Overexertion Injury?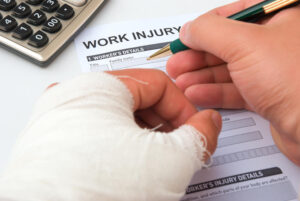 To obtain workers' compensation in South Carolina, you have certain obligations. It's important to follow all of the rules to protect your right to benefits.
First, report the injury to your employer immediately and request medical treatment. Failure to immediately report an injury can result in denial of the claim by the employer/carrier. At the very latest, generally, your injury must be reported to the employer within 90 days of the accident. If you notified the employer within the 90-day window, you generally have two years to file a claim.
When you speak with your employer, they should give you a list of approved physicians to see for treatment. Your employer should also submit a Form 50 to report your injury to the South Carolina Workers' Compensation Commission. If they fail to file this form, you can submit it yourself.
Next, have an approved doctor evaluate your injuries as soon as possible. Seeking medical care promptly is a crucial step. Without timely treatment, the insurance company may argue your overexertion injury is not work-related and deny your claim.
If your claim is approved, you may be authorized to receive a range of benefits that depend on the specifics of your overexertion injury. These include:
Medical treatment, such as physical therapy, prescriptions, surgeries, or specialized medical devices
Travel to and from the doctor
Help finding a new job if your injuries prevent you from returning to your old job
Partial wage replacement for your time off work
Permanent or temporary disability benefits
If your employer's insurance company denies your claim or offers you much lower benefits than you deserve, you have a right to request a hearing with the S.C. Workers' Compensation Commission to appeal the insurer's decision. These hearings are official proceedings, so it's wise to consult a knowledgeable South Carolina workers' compensation lawyer to appeal your case.
Why Should I Hire a South Carolina Workers' Comp Attorney?
The good thing about workers' compensation in South Carolina is that benefits are available to you regardless of fault. In other words, you don't have to prove that someone did something wrong in order to receive benefits.
You do, however, have to show that your overexertion injury was work-related. This will require significant documentation, including but not limited to:
Medical records
Your personal account of the accident
Witness statements
Photos and video footage
Physical evidence was taken from the accident scene
Trying to collect the strong evidence necessary to support a workers' compensation claim is difficult, especially if you're in pain and trying to get back on your feet. A trusted South Carolina workers' compensation attorney can help ease this burden by taking care of all the details of your claim for you.
Another advantage of hiring an attorney to handle your workers' compensation claim is that a lawyer will know what your case is worth. Many people have no idea how much they are truly entitled to in workers' compensation benefits, which can mean that they receive far less than what they are owed.
In addition, it could be possible for an injured employee to file a personal injury lawsuit if an outside third party is responsible for his or her injury. You cannot sue your own employer for negligence, but if someone else caused your injury, a lawyer can investigate whether someone else should be held liable. A lawsuit can help you recover some types of compensation that aren't possible in a workers' compensation claim, such as pain and suffering.
Preventing Overexertion Injuries at Work
After recovering from overexertion, there are also some steps you can take to help prevent additional injuries in the future, including:
Taking rest breaks throughout the day
Using a hand truck or cart to carry a heavy load or ask a coworker to help you
Stretching
Making sure you have an ergonomic chair and proper desk setup if you sit most of the day
Using good posture
Reporting any symptoms of injuries early before they become worse
Lifting heavy item with your legs and keeping your back straight
Drinking water
At Stewart Law Offices, being your lawyer means more than just getting you results. We want to get you healthy and happy again.
Ready to get started? Call or contact us now for a free consultation.
How the SC Workers' Comp Lawyers at Stewart Law Offices Can Help You
You've already overexerted your body. Don't overwork your mind, too. At Stewart Law Offices, our proven workers' compensation lawyers can handle all aspects of your work injury claim. We're tough, efficient, and pay attention to detail — everything you need from a workers' compensation law firm.
We can help no matter where you are in the workers' compensation process. It's best to contact a lawyer as soon as you've notified your employer of the injury. That way, your attorney can collect the documentation needed to support your request for benefits. Many South Carolinians are denied benefits on their first try simply because their applications are incomplete.
In addition, our lawyers can manage all communications with your employer's insurance company for you. Reaching an agreement on benefits with the insurer is always preferable to having to appeal to the Workers' Compensation Commission or the courts. But if that's what it takes to get you full and fair benefits, we're prepared to do that, too.