Motorbike Traffic collision lawyer in Rock Hill, SC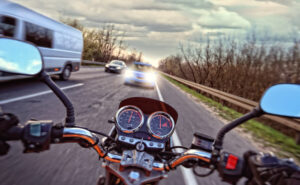 When motorcycle accidents caused by someone else's negligence happen in Rock Hill, riders and their families turn to the Motorbike Traffic collision lawyer in Rock Hill, SC of Stewart Law Offices for help seeking the compensation for their losses.
Motorcycles are much smaller vehicles, but they share the same roads with passenger vehicles and large commercial trucks. Other motorists frequently misjudge the speed at which motorcycles are traveling or the distance motorcycles are from their vehicles. Other drivers frequently fail to make an effort to notice motorcyclists in traffic.
When another driver makes a mistake and causes a collision with a motorcycle, the motorcyclist is likely to suffer severe injuries. Motorcyclists do not have the kinds of protection that are provided by most passenger vehicles.
Did you suffer severe injuries or was your loved one killed in a motorcycle accident in Rock Hill or a surrounding area of South Carolina? Make sure that you seek help from an Rock Hill motorcycle accident lawyer as soon as possible.
Stewart Law Offices is prepared to fight to help you seek compensation for your medical bills, lost wages, pain, and suffering, and all other losses related to the crash. You can have our attorneys provide a complete evaluation of your case as soon as you call us or contact us online to set up a free consultation.
Causes of Motorcycle Crashes in Rock Hill
Some of the most frequent types of motorcycle accidents include:
Left- or Right-Turn Accidents — If a driver turns left in front of an oncoming motorcyclist, they leave the motorcycle rider powerless to avoid a collision in many cases. Typically, in a right-turn accident, a driver who is traveling in the same direction as a motorcyclist strikes the motorcycle while turning.
Rear-End Accidents — If a motorcycle stops suddenly or another driver is simply not paying attention, the motor vehicle could strike the motorcycle from behind. Even collisions at low speeds can involve significant force, which is enough to throw a motorcyclist from the bike and cause serious injuries.
Distracted Driving — Motorists are much more likely to cause collisions when they are not paying attention to the task at hand. Talking or text messaging on cell phones is certainly one of the most common kinds of distractions, but other possible distractions could include eating, drinking, smoking, caring for a pet, or applying makeup.
Driving Under the Influence of Alcohol or Drugs— A driver who is operating while under the influence of alcohol or a controlled substance is much more likely to commit any one of a number of actions that could endanger a motorcyclist. Drunk or drugged driving offenses may result in criminal charges, but it is important for victims to understand that criminal cases are completely separate from civil actions. The burden of proof is much lower in a civil case, so a person who is acquitted of a DUI crime in South Carolina could still be held civilly liable.
Driver Fatigue— While tired drivers are more often associated with commercial trucks, the truth remains that all people are prone to periods of exhaustion. A drowsy driver is at risk of nodding off or falling asleep behind the wheel, possibly causing a collision.
Lane Change Accidents — On busier highways, cars may change lanes frequently in attempts to pass slower moving vehicles. Improper passing can result in collisions, particularly when a driver fails to check for a motorcycle before moving over.
The cause of a car crash is not always immediately evident. It is important to make sure that a collision is thoroughly investigated to determine if mechanical issues factored into the accident, for example. Some crashes may be caused by defective or malfunctioning parts or by a flawed design. A manufacturer could be liable if a part or design was defective.
Motorcycle Accident Injuries
Some motorcyclists wear helmets, which may help reduce the likelihood of certain serious head injuries. However, helmets are ultimately scant protection when a motorcycle is involved in a traffic accident.
Motorcyclists' bodies are, for the most part, exposed to a multitude of harm. Some of the possible injuries that can result from a motorcycle crash include:
Paralysis
Spinal cord injuries
Traumatic brain injuries
Internal organ injuries
Neck injuries
Muscle strains
Sprains
Lacerations
Fractures
Road rash
Some motorcycle crashes result in fatal injuries. In these cases, the family members of the deceased may be able to file a wrongful death lawsuit against the negligent parties.
Rock Hill South Carolina Motorcycle Laws
South Carolina requires all motorcyclists under 21 years of age to wear helmets. Riders 21 years of age or older are not required to wear a helmet.
Off-road motorcycle riding is prohibited in South Carolina. The state also prohibits the practice of lane splitting, in which a motorcyclist rides in between the lanes of stopped or slowed traffic.
Otherwise, motorcyclists are generally subject to the same rights and responsibilities as other motorists.
Motorcycle Accident Statistics in South Carolina
According to the Traffic Collision Fact Book from the South Carolina Department of Public Safety, there were 148 fatalities in collisions involving motorcycles in 2016, the most of any year during the five-year period dating to 2012. There was a 35.8 percent increase in fatalities between 2012 and 2016, and a 5 percent increase in fatalities between 2015 and 2016.
Additionally, the publication reported that motorcycles were involved in 145 fatal collisions, 1,786 injury collisions, and 470 property-damage-only collisions. These cases involved 2,076 injuries.
National Transportation Safety Board statistics show that motorcycle accidents account for 7.7 percent of all traffic fatalities in South Carolina with a fatality rate of 15.9 per 10,000 registered motorcycles. The Hurt Report indicated that approximately three-fourths of motorcycle crashes involved collisions with other motor vehicles.
Compensation for Motorcycle Accidents in Rock Hill
Most car crashes are resolved through settlements reached through tough negotiations with the responsible insurance company. In some cases, the insurance company simply will not make a reasonable offer, making it necessary to pursue a lawsuit in court.
If a case does go to trial, the victim must prove the case by a preponderance of the evidence, and the jury could award the victim compensatory damages. Compensatory damages are often a combination of economic damages and non-economic damages.
Economic damages involve the objective costs a victim incurs because of their injuries, and non-economic damages are far more subjective.
Examples of economic damages include:
Medical expenses
Lost wages
Property damage
Examples of non-economic damages include:
Emotional distress
Pain and suffering
Loss of consortium
Punitive damages can also be awarded in rare cases where the court wants to set an example and punish the defendant for especially reckless misconduct. Drunk driving cases are an example of a case in which punitive damages may be awarded.
Steps to Take Immediately After a Motorcycle Accident in Rock Hill
No matter how serious you think your injuries are, you should always seek medical attention after a motorcycle accident. Keep in mind that not all symptoms of injuries are immediate, and you want to make sure you receive proper treatment when symptoms may be delayed.
Another important step for victims to take after a motorcycle crash is to try and photograph the scene of the accident. Take pictures of the vehicles involved, as well as the people and the surroundings, and take these photos from multiple angles and distances.
Be sure to ask anyone who witnessed your accident for their names and phone numbers. Contact a Rock Hill motorcycle accident lawyer before you speak to any insurance company about the crash.
How Our Law Firm Can Help After a Motorcycle Accident
You need to have your motorcycle accident independently investigated to determine its true cause, who was at fault, and the full extent of your losses. Stewart Law Offices is prepared to perform a comprehensive review of the motorcycle crash that injured you in Rock Hill.
Stewart Law Offices has an office in Rock Hill, with other South Carolina locations in Beaufort**, Columbia, and Spartanburg. Call us or contact us online to receive a free consultation and find out more about your legal rights and options for pursuing compensation.