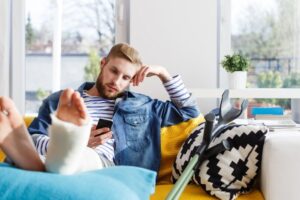 Over the past few years, the use of social media has elevated to the point where it is now one of our primary methods of communication. People use their social media profiles every day to share pictures, watch videos, keep in touch with friends and family members, and more.
Since nothing published on the internet can ever truly be deleted, it is important to be mindful of what you post. This is especially true if you are involved in a personal injury case. You never know who may be monitoring your profiles; lawyers and insurance companies have been known to use social media posts as evidence in personal injury court cases.
Let's give a hypothetical example: Josh was rear ended by Edward last month and is now suing for physical damages, medical expenses, and noneconomic damages (such as pain and suffering). On the day of his trial, Josh and his personal injury lawyer will call on medical experts, eyewitnesses, and friends and family members to testify on behalf of his claims.
It is Edward's (and his attorney's) job to dig up evidence that suggests the contrary. One of the best places to look for this evidence is Josh's social media profiles. As it just so happens, Josh recently uploaded a video of himself going out and dancing to his Facebook page. He also tweeted that his recovery has gone better than expected, and he is feeling fully healthy again. These posts strongly suggest that his injuries are not major, and he is experiencing little-to-no emotional suffering as a result of his accident.
Edward uses these posts as clear and convincing evidence that Josh's injuries are not as severe as he claims, and the judge agrees. Josh loses the trial because he wasn't mindful of what he posted online.
This is a hypothetical example, but real-life instances of this are rather common in the courtroom.
If you have been seriously injured as the result of someone else's negligence, timing is everything. It is essential to consult with an attorney immediately following your accident. A personal injury lawyer will be able to offer their professional guidance, and help you avoid making critical mistakes that could hurt your case – such as posting on social media.
If you live in North Carolina or South Carolina and are searching for a personal injury lawyer, look no further than Stewart Law Offices. Our attorneys will fight diligently on your behalf to secure the compensation you deserve. We will even visit you at home or in the hospital while you recover. Contact us online to get started with a free case evaluation, or give us a call at (866) 783-9278.