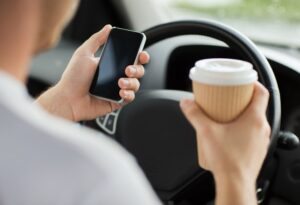 Over the past 5-10 years, a new risk has developed that is responsible for thousands of annual deaths across the country. Do you know what it is?
If you guessed distracted driving, you're right. The use of smartphones has skyrocketed in recent years, and so have instances of texting while driving. Safe driving requires 100% concentration, 100% of the time. When someone chooses to break this concentration by focusing on their phone or something else, accidents are more likely to occur.
Read below to learn more about distracted driving and the risks it poses to drivers, passengers, and bystanders alike.
What is distracted driving?
According to NHTSA.gov, distracted driving is any activity that could divert a person's attention away from the primary task of driving. There are three main types of distractions behind the wheel. They are:
Visual: taking your eyes off the road.
Manual: taking your hands off the wheel.
Cognitive: taking your mind off driving.
Any action which compromises your attention behind the wheel can classify as "distracted driving". Some specific examples include:
Texting
Talking on the phone
Eating and drinking
Talking to passengers
Personal grooming
Reading
Looking at maps
Operating GPS
Watching a video
Adjusting the radio
Of the above activities, texting while driving is widely considered to be the most dangerous. Not only because of its prevalence, but also due to the fact that it creates visual, manual, and cognitive distractions.
Distracted driving statistics
Think distracted driving is no big deal? These shocking statistics will make you think again:
Cell phone use while driving accounts for 1.6 million car accidents each year. These accidents account for nearly 400,000 injuries and more than 3,000 deaths per year.
At any given time during the day, an estimated 660,000 drivers are using their cell phones.
Texting while driving is 6x more likely to cause an accident than driving drunk.
48% of drivers admitted to answering their cell phones while driving.
1 of every 4 car accidents is caused by texting and driving.
When polled, 77% of adults said they could "easily manage" texting while driving.
Injured by a distracted driver?
If you or someone you love has been injured at the hands of a distracted driver, don't waste any time seeking recovery for your damages. Medical bills can accumulate quickly after a car accident, and injuries may force you to miss work time, leading to a serious financial burden.
Luckily, help is available from the personal injury attorneys at Stewart Law Offices. Our lawyers have the knowledge and experience needed to help you secure the compensation you deserve after a South Carolina car accident. If you live in North Carolina or South Carolina, contact us online to get started with a free case evaluation, or give us a call at (866) 783-9278.