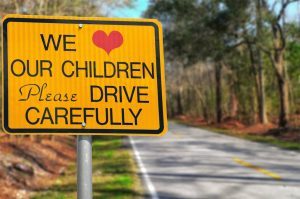 Early fall is filled with the excitement of a fresh start with back to school for students everywhere, but unfortunately, it also brings about new dangers for drivers and students. Congestion near schools, newly licensed teen drivers, student commuters rushing to get to class, and buses making frequent stops all create increased need for drivers to be aware and remain safe. Stewart Law Offices wants to remind you of a few simple tips to help you and your students have a successful, safe, and injury free school year.
According to the National Safe Routes to School program, more children are struck by vehicles near schools than anywhere else. Drivers have to be extra aware whenever they are in or near a school zone in order to avoid finding themselves in a tragic collision.
School-Zone Reminders
No double parking in a school zone. This diminishes visibility for children and other vehicles.
Avoid loading and unloading children across the street.
Obey posted speeding signs in a school zone. If no sign is visible, obey the standard 25 mph rule.
Do not use cell-phones in a school zone. Drivers must remain aware at all times to avoid hitting students.
Scan constantly for absent-minded students. Kids often don't follow proper rules of the road and even if the driver has the right of way, tragedy can be avoided by maintaining intense awareness.
Teens and inexperienced drivers are often those surrounding high schools. Maintain defensive driving at all time.
Avoid switching lanes or passing other drivers in a school zone.
Bus Safety Reminders
It is illegal in all 50 states to pass a school bus that is stopped to load or unload children.
Maintain extra distance behind a bus so you're prepared to stop when needed.
Wait until the bus begins moving to resume traffic. Late children often run out and aren't aware of the dangers of their surroundings.
Buses merging back into traffic have the right of way.
While it might seem like a hassle to be stuck in the often overwhelming and frustrating traffic accompanying school start and end times, it is important as drivers and adults that we keep our children and those in the community safe. If you or your family find yourselves involved in any type of accident and need a personal injury attorney, Stewart Law Offices is ready and willing to support you. We hope you won't need our number, but if you do, we will counsel you and help you get the compensation you deserve. Call us at 1-866-STEWART.
For more information regarding back to school driving safety, please visit http://www.nsc.org/learn/safety-knowledge/Pages/back-to-school-safety-tips-for-drivers.aspx.